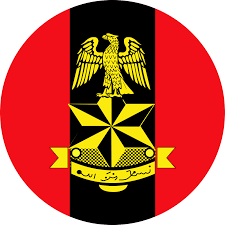 Army ranks in Nigeria: If you are going to join the Nigerian Army as a recruit or through short service, you should be familiar with the Nigeria Army Ranks and their structured monthly salary.
See how to apply for Nigerian Army Recruitment form
In essence, Nigerian military or armed forces are very important for any country in the world. They are often grouped into 3 (three) parts, namely; Nigerian Army, Nigerian Navy and Nigerian Air Force. nigerian army ranks, and army ranks in nigeria
The Nigerian Army is the land force, the Navy is responsible for managing the ports, while the Nigerian Air Force is responsible for managing the aviation operations.
Incase, you haven't seen the Police ranks and symbols in Nigeria, you should check it out
Army ranks in Nigeria | Nigerian Army ranks
Here, for your information, we will explain in detail the Nigeria Army ranks and salary structure. This compilation is created especially for young men and women who are seeking, seeking and considering the possibility of pursuing a career in the Nigerian Army.
First, the focus of this article is to provide the reader with an overview of the Nigeria Army ranks structure.
Want to join Navy? See the Nigeria navy military school form 2021/2022
The functions of the Nigerian Army Force include:
Protect Nigeria from external aggression;
Maintain territorial integrity and secure its borders from land, sea or air disturbances;
Suppress riots and help civil authorities restore order if the President so requests, but under conditions and regulated by National Assembly legislation
Performs other functions prescribed by law of the National Assembly.
Check out FRSC recruitment 2022
Army ranks in Nigeria | Nigerian Army ranks
The Nigerian is still the largest army in Africa in terms of their size and structure, they have successfully risen up in number from 18,000 to over 126,000 over the years,
This huge number has been attributed to their success in curtailing and handling the crisis in recent time.
Before we proceed we will like to separate the Nigerian army ranks into two divisions which are:
Non commission officer: these are military men who passed through the regular 6 months training in kaduna.
They are as follows
Commission officer: this are the main officers and they are highly respected, they are believed to be in charge of the leadership.
They are as follows:
Lieutenant
2 Lieutenant
Captain
Major
Colonel
Brigadier
General.
Although, the above list seem to appear confusing, so i have decided to highlight them in a well arranged format.
Different Nigerian Army Ranks
The Army ranks in Nigeria is listed below;
Commissioned Officers
Field Marshal (5 Star General and the highest rank In the Nigerian Army)
General (4 Star General)
Lieutenant General (3 Star General)
Major General (2 Star General)
Brigadier General (1 Star General)
Colonel
Lieutenant Colonel
Major
Captain
Lieutenant
Second Lieutenant.
Non Commissioned Officers
Warrant Officer Class I
Warrant Officer Class II
Staff Sergeant
Sergeant
Corporal
Lance-Corporal
Private
Recruit.
See the Nigeria Airforce ranks and salary also
Nigerian Army Salary 2023/2024
Nigerian Army Salary Structure: Now that we have examined the Nigeria Army ranks, let's quickly discuss about their salaries.
The Nigerian Army salary scale depends on the rank of the officer. The salaries of Commissioned and non-Commissioned can be found below.
Non-commissioned Officer:
Below we have managed to list the salary structure for a non-commissioned officers in the Nigerian Army. Carefully review the Nigeria Army ranks and salary structure below. Everything is displayed in a table so as not to get confused
| | |
| --- | --- |
| Ranks | Salary |
| Corporal | N58,000 |
| Sergeant | N63,000 |
| Staff Sergeant | N68,000 |
| Warrant Officer | N80,000 |
| Master Warrant Officer | N90,000 |
nigerian army ranks, and army ranks in nigeria
FAQs About Nigerian army ranks | Army ranks in Nigeria
This division will be all about some frequently asked questions about Army ranks in Nigeria, or Nigerian army salary 2023/2024.
What rank is 2 star in Nigeria Army?
Major General

It is ranked 8th by NATO. 4. Major General – Major General earns Two-Star General and is an average commissioner officer.
What is the rank of 3 star in Nigeria Army?
Lieutenant General. (Three Stars) – The commissioned officer rank is below a full General (four stars) and directly above a major general (two stars).
What does 3 stars mean in the Nigerian Army?
It means Captain.
It is the highest rank in the tactical army organization. The captains had three silver stars lined vertically on their shoulders. The next rank is Major, the lowest rank of field officer in the rank in the Nigerian Army.
What rank do you get after NDA in Nigeria?
You will receive the rank of Cadet if you qualify for the NDA where you will train for 3 years followed by 1 year of training at INA, IMA, AFA for Navy, Army or Air Force respectively. Upon completion of your respective academy, you will receive the ranks of Sub Lieutenant, Lieutenant, Flying Officer in your respective services.
Who has the highest military rank in Nigeria?
Field Marshal has the highest rank in Nigerian Army. Field Marshal is the highest rank in the Nigerian Army. He has an unrivaled 5 star rating in Nigerian history.
How much is Nigerian Army monthly salary?
As we have discussed above. Private Soldier is given #50,000 per month. Lance Corporal is paid #57,000 per month. Coporal receives #62,000 per month. Sergeant Is Paid #68,000 per month.
That is all about the nigerian army ranks, Salary and army ranks in nigeria, if there is any question drop it in the comment section.

Other Posts:
nigerian army ranks, and army ranks in nigeria
His name is Ibrahim Olamide " the CEO of WITSPOT.ORG He is a writer, poet, educational consultant, and also reporter who cherishes reporting the latest updates in educational news around the world. Also, he is committed to assisting the learners in terms of learning and other aspects. |UNILORITE|